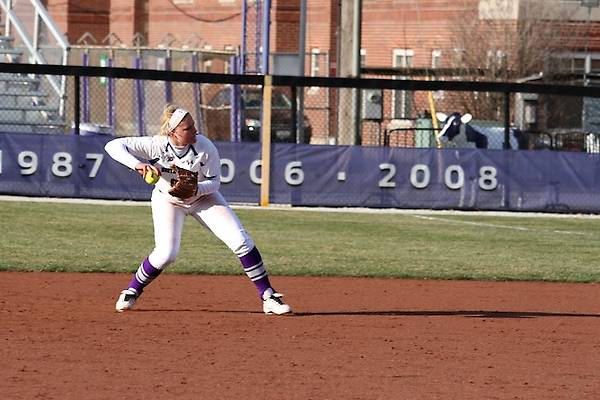 Senior weekend for Wildcat softball continued with a 4-1 home win against Purdue Saturday afternoon. After dropping both games in a doubleheader against Wisconsin in Madison on Wednesday, the 'Cats grabbed their second win in a row against the Boilermakers in their final home campaign of the season.
The speedy senior Kristin Scharkey led off Northwestern with a triple, and who else but Marisa Bast to knock her teammate in with a single to allow the Wildcats to take a 1-0 lead in the first inning. The junior is having an absolute monster of a season, leading the Wildcats in runs scored (41), home runs (11) and RBIs (41).
Senior Meghan Lamberth notched her ninth win of the season, improving to 9-5 on the year. Lamberth showed excellent poise in some sticky situations early on in the game. With runners on second and third in the top of the second inning, she forced a popup and a groundout to retire the side.
Workhorse first basewoman Amy Letourneau made a case to be the recipient of the Big Ten Player of the Week for the third consecutive week on Sunday. The sophomore, who hits over .390 with runners in scoring position this season, recorded two hits, a walk, an RBI and a run scored. Her performance in the third inning broke the game open and allowed Northwestern to take a 3-0 lead.
A throwing error from Purdue third basewoman Tori Chiodo allowed the 'Cats to nab another run in the bottom of the sixth inning.
Purdue gave the Wildcats a scare in the top of the seventh with runners on second and third and only one out. However, Lamberth continued to battle and the Boilermakers came out of the inning with only one run scored.
Game MVP – Meghan Lamberth
On any other day, the honors would go to Letourneau for her great work at the plate and consistent defense. However, Lamberth pitched a gem Saturday. Through seven innings, she struck out five and only allowed one run on eight hits. While a lot of Purdue batters reached base, Lamberth showed a tremendous amount of poise stopping the bleeding.
Looking ahead, the 'Cats will face Purdue tomorrow and then cross-city rival Depaul on Tuesday to finish their 2013 home games. These are must-wins for the Wildcats, who will face the first-place Wolverines three times to close out the regular season before the Big Ten Tournament in Lincoln, Neb. in May.