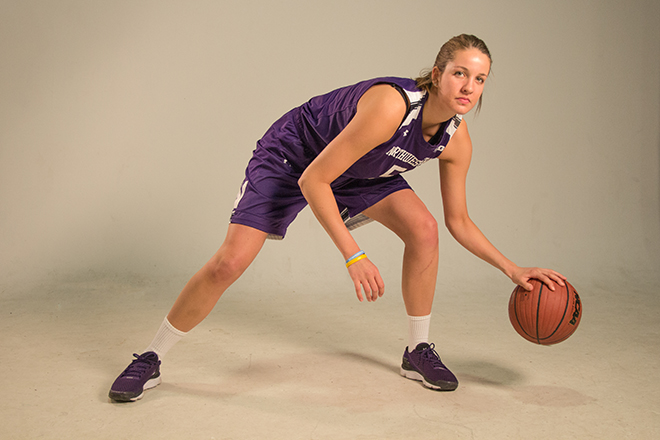 On the toes of her size 11.5 basketball shoes, senior center Alex Cohen writes her father's initials: R.L.C. After the end of the national anthem before every game starts, Alex reaches down, touches those initials and puts both her hands to her heart. It's a subtle movement, hardly visible from the stands, but her father, Robert, always notices.
For all of Alex's success during her career at Northwestern – ranking second in blocks in program history with 172, leading the Wildcats to the NCAA Tournament for the first time since 1997 – the most important part of her life is family.
In her senior season, Northwestern finished with a 23-8 record and made it to the semifinals of the Big Ten tournament for the first time in NU women's basketball history. The historic season came to halt after a 57-55 loss to 10th-seeded Arkansas in the first round of the NCAA Tournament in Waco, Texas.
"Being able to make it to the NCAA Tournament is something everyone wants to do when they grow up playing basketball," Alex says.
Though the game was more than 1,000 miles away from Evanston and even farther from her childhood home in Bayside, Wisconsin, Alex's parents and siblings watched from the stands with pride.
"She wasn't expecting all of us to come so last minute and so far away," her sister, Arianna, says. "I think it helps her in her confidence to have us there."
Before her final game as a Wildcat, like every other game she's played since third grade, Robert said, "Go play hard and have fun."
Alex and her father are close, "as close as a father can be," he says. Robert, 59, played basketball at Lawrence University in Appleton, Wisconsin, and has used his own experiences as a center to help teach his daughter. At 6 feet 6 inches, Robert is only two inches taller than Alex. The two discuss basketball at home on the couch, at dinner after her games and when she calls him every morning and evening. Every conversation between the pair ends with, "See ya, love ya, bye."
"It was more important to me to have a daughter than a basketball player," he says.
At the end of Alex's sophomore year, doctors diagnosed Robert with pancreatic cancer. He was given only a few months to live. Nearly two years later, Robert's tumors have stabilized and he says the family is doing extremely well. Robert receives chemotherapy every other week and will continue to do so for the rest of his life.
This is not the first challenge the Cohen family has faced. The year Alex was born, her brother Aaron was diagnosed with autism. Alex and her sister grew up with people constantly coming in and out of their house to treat him. Robert says his daughters are "wise beyond their years" as a result.
Alex regularly volunteers with Special Olympics, a program her brother still participates in, and was president of the NU branch of Autism Speaks U, an organization devoted to raising autism awareness on campus. This past fall, Alex spearheaded the first NU Goes Blue gala to benefit Autism Speaks, which raised more than $20,000. Robert says from that moment on, he saw Alex as a peer rather than his daughter.
"As a father who might not be around to see her get married, have children or be middle-aged, it made me incredibly proud to see the young woman she has become," he says.
In recognition of her work on campus, Cohen was named to the 2015 Allstate Women's Basketball Coaches Association Good Works Team and flew to the women's Final Four in Tampa, Florida, with her father. Out of 93 players nominated, the committee chose five.
"Watching her get this award is something I'll never forget," Robert says.
The WBCA Good Works Team volunteered at a cancer center for adults. While her father spoke to the other parents about coping with cancer within his family, Alex and her teammates played with children and made bracelet beads out of paper that were inscribed with a message of strength. Alex wrote "Today" on hers, a mantra her family has adopted since her father's diagnosis.
That motto has guided Alex as she transitions into her professional athletic career. Ten months ago, she flirted with the idea of going pro and playing in Europe, but decided against it. Her father noticed.
"Very rarely do you survive pancreatic cancer, and she didn't want to be that far away as I deteriorated, which will happen," he says. "I sat her down and said, 'Don't make this about me. I don't want you to regret that decision. You'll be only 12 hours away from me by plane and if something happens to me, we will fly you home.'"
Alex decided to pursue basketball abroad and is now actively searching for a program in the European league with an agent. She hopes to go to Israel.
Through all of the challenges Alex and her family have faced, Robert will continue to watch every game no matter where she is playing. Though it may be from a computer screen instead of from purple stands, one thing will stay the same.
"I have a rule for Alex when she plays," Robert says. "She has to smile at me once during the game."