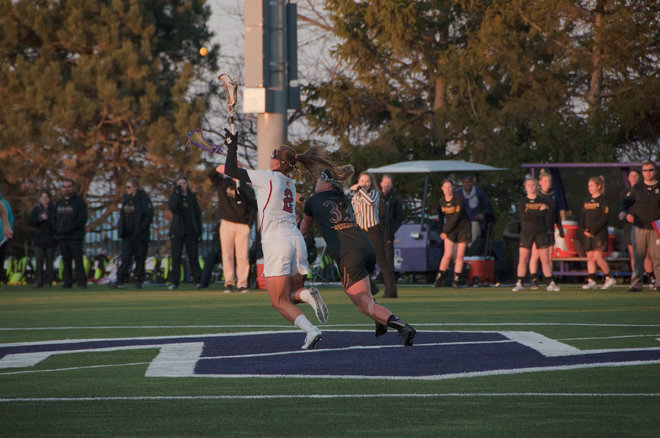 Sophomore Shelby Fredericks relishes her role as Northwestern's draw specialist, largely because of one inspiring, yet simple mantra of Northwestern women's lacrosse: Win the draw, rule the world.
"That just emphasizes the power of the draw control," Fredericks said. "That's why I love taking it, because you really do have a lot of power in the momentum of the game, and with one draw you can shift momentum. I think that's really exciting to be a part of. The game isn't only won in the back of the net. It's won, definitely, in the draw circle."
Controlling the draw is critical in women's lacrosse - the team that wins the draw controls the next possession, and the team that controls the possession controls the game.
Fredericks has done well in her role this season, racking up 89 draw controls, the sixth-highest total in the nation. She often steps up in key situations for the Wildcats, but the road to success has never been smooth.
Despite a team-best 73 draw controls last season, Fredericks' freshman year was a frustrating one. Bogged down by a case of plantar fasciitis, a heel injury which makes it difficult to walk, and a nagging knee injury, she felt that she wasn't playing up to her potential.
"I just had to put a mental block up last year, just to kind of block out the pain and play through it," Fredericks said. "There came a point in the season where I didn't feel like I could really do anything on the field. And it was hard, because I knew I wasn't giving those seniors what healthy Shelby could give them. That was something that was pretty heartbreaking for me."
So after NU's season ended in the third round of the NCAA Tournament, Fredericks spent the summer getting healthy and getting prepared. To improve her strength, she turned to a fitness center in New York City called SportsLab, where she engaged in strenuous strength-building activities such as Olympic weightlifting. Additionally, the Babylon, NY, native found a running partner in fellow sophomore Lindsay Darrell, who lives "one town over" in West Islip.
Fredericks' ability to battle back from injuries proves that she's a fighter, so perhaps it's fitting that she likens her craft to a boxing match.
"You always want to throw the first punch, and if you take the first punch, you've got to be able to keep fighting and adjust," she said. "The draw is kind of special because you're still very much in control of the whole situation. It's the only situation in a game where it's really you versus the other player."
But despite her newfound health, Fredericks struggled at the start of the 2016 season, averaging just 2.5 draw controls per game over her team's first four contests, three of which were losses.
Enter head coach Kelly Amonte Hiller. At halftime of Northwestern's March 8 match with Marquette, the veteran coach decided things had to change.
"Kelly came up to me, she didn't say anything, and showed me the stats, and showed me that they were winning draws 11 to 4," Fredericks said. "And although we were up in the game, she just came over to me, showed me a piece of paper, and walked away. And that's what makes Kelly a great coach – she knows that I play my best when I am proving someone wrong."
It worked. Northwestern won all but one of the 15 draws in the second half and pounded Marquette 17-11. Fredericks finished with nine draws herself and has tallied fewer than five draws in just one match since, which came in a challenging matchup with Maryland, the nation's top team.
"I just showed her the stats, and she's a competitor - so when you challenge her, she responds," Amonte Hiller said, recalling the exchange at halftime. "I think that's what we've tried to do to her all season, challenge her in all aspects of her game, and she usually steps up."
Now, Fredericks and the Wildcats find themselves in a troubling position. If NU doesn't beat Ohio State on Friday, they will finish the season under .500 and be ineligible for the NCAA Tournament, something that hasn't happened since 2002. Once again, the 'Cats will need their sophomore draw specialist to step up.
After a debut season marred by injuries and a lack of confidence, Fredericks has grown, and is ready for the challenge. And, ultimately, she knows what her job is, laughing slightly at its simplicity:
"Just get the ball."