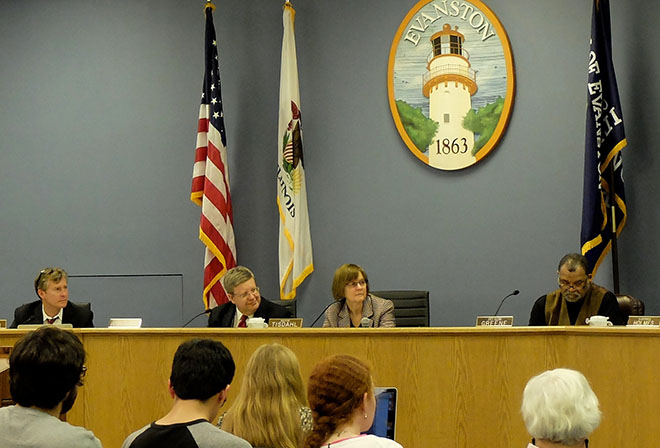 Evanston City Council amended the current Class I Liquor License classification on Monday night, allowing for licensees to sell alcohol for consumption both on and off restaurant premises.
According to meeting documents, this amendment is meant "to more comprehensively and adequately address the retail sale of alcoholic liquor on premises which are restaurants with an additional retail sales area."
This revision came as part of Ordinance 136-O-14, which also increased the number of existing Class I liquor licenses from zero to one by authorizing Lush Wine & Spirits a license at 2022 Central St., a city-owned property at which the wine shop has not yet obtained a lease.
City Council vetoed a request to "Suspend the Rules" to address and take action on Ordinance 128-O-14, the authorization of the wine shop's lease, after Alderman Judy Fiske (1st Ward) asked for it to be taken off of the night's agenda.
"Oftentimes, when the suspension of the rules is put in place, the Council is concerned that the rules are there for a reason, so that there are two readings [of the ordinances] to allow the community to be aware of what is happening," said City Manager Wally Bobkiewicz. "So from time to time, when councils ask to suspend the rules, another council will say no because they are concerned that it should have an additional two weeks."
Bobkiewicz said that the objection to suspend the rules on Ordinance 128-O-14 was more of a procedural issue within the City Council rather than having anything to do with the Lush Wine & Spirits business.
The wine shop's lease will be discussed at the next City Council meeting.