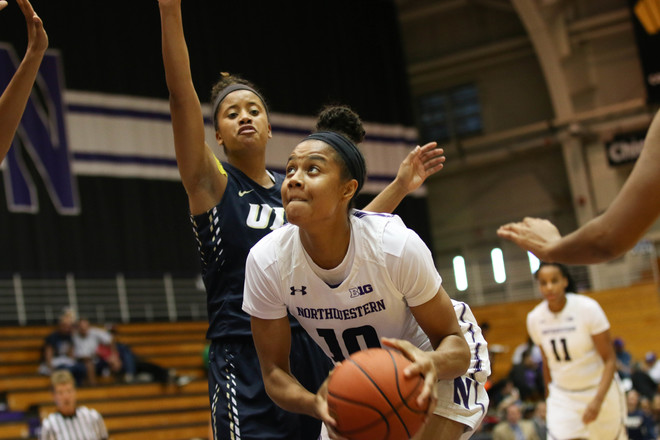 After losing to No. 20 DePaul, the Wildcats (5-1) pulled off a statement win against No. 16 Florida and also came out on top against Evansville last week.
The 'Cats struggled at DePaul and fell behind in scoring during every quarter of play, though they were in contention for a win until the fourth quarter. DePaul had an early lead on NU, and despite the 12-0 scoring run Northwestern had after being down 7-4, the Blue Devils established a lead at the end of the first period with a pair of threes. DePaul continued to steadily build its lead, overpowering NU and running away with the victory.
Redshirt senior Lauren Douglas led the Wildcats with 18 points, followed by Ashley Deary's 14, but it wasn't enough, and Northwestern fell to the Blue Devils 89-66. The loss was Northwestern's first of the season, but the 'Cats were able to reevaluate before their next two games and improve on both sides of the ball.
Senior Nia Coffey, who was named this week's Big Ten Player of the Week, is known for leading the Wildcats – but didn't see any minutes against DePaul due to an injury. She made up for her absence in Chicago and had a stat sheet-stuffing game against Florida, recording 26 points and 14 rebounds with six assists, four steals and two blocks, racking up her 43rd double-double game.
Nia Coffey Named Big Ten Player of the Week! #B1GCats

RELEASE: https://t.co/FmFVSnIGlBpic.twitter.com/f8zRKC491o

— NU Women's Hoops (@nuwbball) November 29, 2016
As a team, the Wildcats shot 44 percent from the field and held the Gators to under 38 percent. Florida led at the end of the first period, but NU responded with a 20-17 run in the second. The Gators outscored them by four in the third quarter, but Northwestern's 17-8 scoring run in the last period sealed the deal. The 73-68 Wildcat victory was the first time NU beat a ranked opponent since January of last season, when it took down No. 5 Ohio State.
Sunday's 88-66 win against Evansville was the fifth of the season for the 'Cats, and an impressive showcase of their offensive abilities. Coffey had her third 30-point game and Douglas scored her 1,000th career point as a Wildcat, becoming the fourth member on the roster to have a 1,000 point career at NU (Coffey, Deary, Inman). Northwestern shot 53.8 percent and was 5-13 from behind the arc, as well as going 13-14 from the free throw line. The 'Cats also recorded a season-high 27 assists in the victory.
The season continues with another test on Thursday, when Northwestern hosts Virginia at Welsh-Ryan Arena as part of the Big Ten-ACC Challenge.