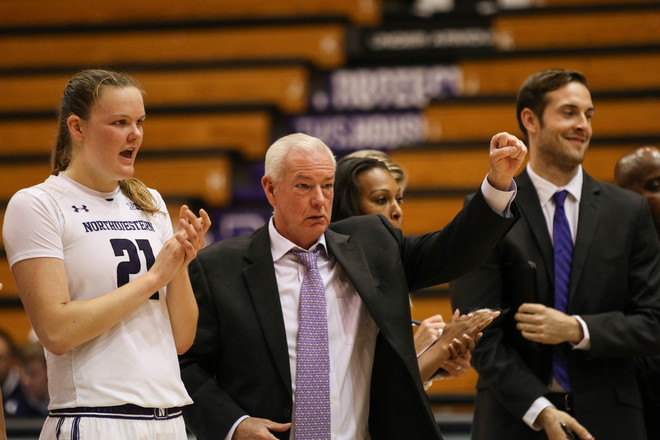 Northwestern escaped its second non-conference game with a win on Sunday, edging out Oral Roberts 64-55. While the 'Cats led the entire game, the Golden Eagles were able to get within three points of NU two times during the fourth quarter and threatened to steal a road win.
Nia Coffey led the 'Cats with 20 points, 11 rebounds and four assists and Ashley Deary added 11 points, scoring her 1,000th career point at NU. All of Deary's points, however, came from free throws. While she was 11-12 from the line and able to set up the offense, Deary struggled to find the hoop and went scoreless in the paint for the second game in a row.
"[Deary] played a little bit beat up today and just fought through it and made some things happen for us when we needed to," head coach Joe McKeown said.
For most of the first quarter the 'Cats were on fire, leading Oral Roberts by 14 points with a little over a minute left before switching sides of the court. But the Wildcat defense got a little sloppy and allowed a Golden Eagle three-pointer, followed by a layup.
During the second and third quarters NU was able to maintain a double-digit lead for a majority of play, scoring most of its points off free throws and jumpers. But from the end of the third quarter through the the middle of the fourth, Oral Roberts started hitting threes and layups that hadn't been falling earlier in the game. McKeown said the Golden Eagles' defense also stepped up its game.
"They just packed everything in and made it really hard for us to score," he said. "It was really congested and hard to get Nia the ball in different spots – hard to get the ball inside. When that happens you've got to be a really good transition team and then be able to play inside-out. It's something we need to get better at."
The 'Cats were in dangerous territory with five minutes left in the game, up by only three, but two big scores from Lydia Rohde secured a NU victory. Rohde was 3-of-3 with three point shots and 4-of-4 with field goals. For a team that had a three-point percentage of .306 last season, the .400 average in Sunday's game could be indicative of an improvement in that area of the offense.
Lauren Douglas also helped secure the win. In the last minute she had a rebound and two blocks, and after a year and a half without playing, the coaching staff was excited to see her making key plays to help seal the win.
"To get her back at the end of the game, her experience really showed," McKeown said. "Her ability to make plays, whether it's a block shot or an offensive rebound at the end of the game, she's just been in a lot of big games for us … It's great to have her back on the court, and like everybody now, her game is still evolving."