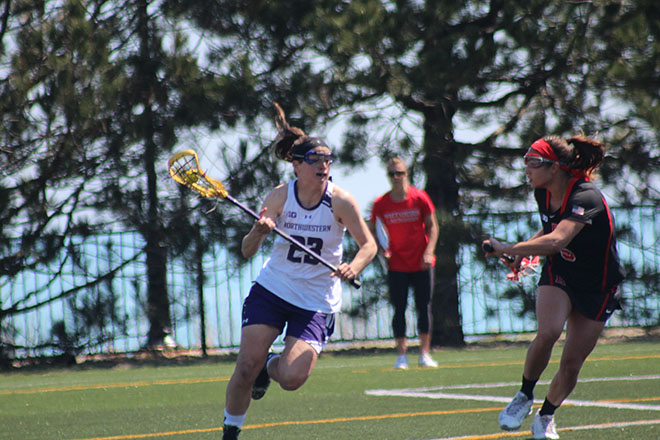 On Friday in Evanston, the No. 5 USC Trojans proved that they were absolutely as good as advertised.
On Sunday in Evanston, the Rutgers Scarlet Knights proved that they were about as bad as advertised.
A team that allows 13.15 goals per game was simply no match a for Northwestern team that was hungry for revenge after a tough loss to USC Friday. And the No. 16 Wildcats (7-7, 2-1 B1G) got their revenge at Lanny and Sharon Martin Stadium on Sunday with a 20-9 smackdown of the Scarlet Knights (3-11, 0-3 B1G). The win ensured the upperclassmen would leave the field in Evanston for the final time on a positive note. It was also the 250th victory in the head coaching career of Kelly Amonte Hiller.
The 'Cats began the onslaught early, as freshman Leighton Yenor tallied twice in the game's opening two minutes. Northwestern then jumped out to a 5-1 lead before Rutgers battled back to make it 6-3 with 16:40 to go in the first half.
It was never close again.
Senior Kaleigh Craig and sophomore Selena Lasota combined for six goals in the next 12 minutes to balloon the Wildcats' lead to 12-3 with 4:47 remaining in the half. Rutgers scored with three minutes left in the half to stop the bleeding somewhat, but then Northwestern scored three more goals in the span of just 59 seconds to head into halftime with a 15-4 lead.
But there was more where that came from. Northwestern opened the second half with four more goals, the second of which was the career-high sixth goal of the game for Craig. Trailing 19-4 and with the game thoroughly out of reach, Rutgers put across four straight of their own and another one with under 30 seconds to play, but Northwestern put the ribbon on this one with 2:04 to go when senior defender Emily Eichner tallied the first goal of her collegiate career, punctuating Northwestern's 20-9 demolition of the Scarlet Knights.
Rutgers' Kim Kolodny turned in a nice day with three goals and three assists and Amanda Turturro had a hat trick of her own, but their performances were vastly overshadowed by a true team effort from Northwestern. 10 different Wildcats recorded at least a point, and six recorded at least a pair of goals. Northwestern fired off 38 shots, 28 of which went on goal, and 20 of which went into the goal. Northwestern chased Rutgers starting goalie Bianca Dente after putting ten goals past her in fewer than 20 minutes.
It was a strong showing from the underclassmen overall. Lasota fired 10 shots, scoring three times. The sophomore now has recorded 101 goals in her young collegiate career, needing just 35 games to reach the milestone. Sophomore Shelby Fredericks recorded four assists, the most of any Wildcat this season, while also recording a game-high seven draw controls. Freshmen Yenor and Haley Ciklin combined for three goals, while juniors Christina Esposito and Danita Stroup combined for four more. Freshman goalie Mallory Weisse tallied nine saves in the victory.
But, as is often the case, on Senior Day it was all about the oldest members of the squad. Craig led the way offensively, as usual, with six goals on six shots, giving her 36 goals on the year and 117 in her career. But Sunday Craig was joined on the scoresheet by two players who don't often end up there. Eichner, a Northwestern stalwart for three seasons, scored her first-ever goal in her 50th career game, on what was just her second career shot. Meanwhile, senior Lauren Murray, a mainstay in the midfield for four years, tallied her first two goals of the season, the eighth and ninth of her career, on two shots in the first half. And Amonte Hiller, recognizing the significance of the day, gave reserve midfielder Jessica Dahldorf the start, the third of her career and first this season.
Even the hardest schedule in the nation is bound to feature some easier games. But Saturday, the 'Cats will be thrown back into the fire again as they head to State College, Pennsylvania, to take on Penn State on April 23. The following Friday, they'll take on Ohio State, which currently sits at 11-1 overall. The Buckeyes and Nittany Lions are presently ranked No. 8 and No. 12, respectively, by Inside Lacrosse, and the Wildcats will need to defeat one of them to even be eligible for the NCAA Tournament in May.