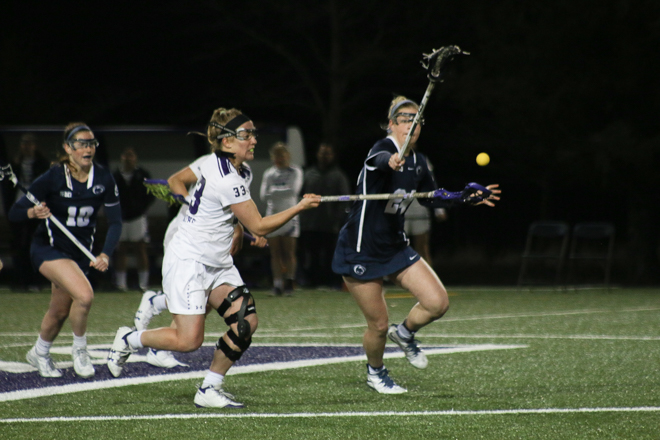 After a 60-minute, back and forth thriller, No. 18 Northwestern (7-7, 3-1) fell 14-13 to No. 5 Penn State (14-1, 4-0) at Martin Stadium Thursday night.
For NU, it was a close loss to one of the conference and nation's top teams as the 'Cats compete for a spot in the competitive four-team Big Ten Tournament.
"I think we came out really hard and we got a little fatigued and lost our focus, and it hurt us," coach Kelly Amonte Hiller said.
The five goals came from five different players: Megan Kinna, Shelby Fredericks, Sheila Nesselbush, Catie Ingrilli and Liza Elder. Nesselbush lead the 'Cats with three goals, and three different players had two. While Northwestern's offense went on its tear, the 'Cats held Penn State's "big three" of Madison Carter (the B1G's leading scorer), Steph Lazo and Katie O'Donnell scoreless and quiet for the first ten minutes.
"I think we were just sliding well, we were aware of the game plan we had for them," Hiller said of Penn State's top scorers. "They got a little bit of momentum from the transition goals, and then I think the fatigue set in. It was just mental lapses."
Catie Ingrilli puts the Nittany Lions in the spin cycle. #B1GCatshttps://t.co/qnVaNWGnES

— Northwestern Lax (@NULax) April 14, 2017
Unfortunately for the 'Cats, O'Donnell and Taylor Bleistein added two more goals in the final minute for Penn State, tying the game just before halftime.
Penn State picked up right where they left off during the second half: Daggett scored three goals in the first three minutes of the second half, and yet another goal by O'Donnell made it 12-8 just three and a half minutes into the second half. Proving true the old adage about "a game of runs," NU struck back: A pretty spin move and unassisted goal by Christina Esposito sparked a 4-0 run for the 'Cats that tied the game at 12.
However, they never did get the lead back: The game slowed down considerably in the final twenty minutes. O'Donnell scored twice more, and Kinna brought it back to 14-13 with five minutes left after eight scoreless minutes. Northwestern had the ball and a chance in the final seconds, but Elder's shot with three seconds to play was saved, effectively ending the game.
"I think our team right now is a fifty-minute team, and there's just ten minutes of every game where we take a little bit of a break," Nesselbush said. "We get a little bit comfortable, and as soon as you do that, you lose momentum, which is what we did today."