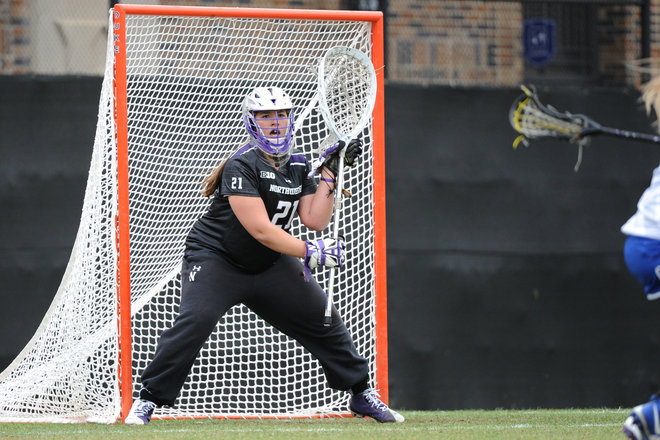 Roster turnover is inevitable for any college sports team. Players in key positions graduate every year, and must be replaced. For Northwestern women's lacrosse, this offseason presented a challenge, as the team faced the task of replacing the most important position on the field: goaltender.
With three-year starter Bridget Bianco graduated, head coach Kelly Amonte Hiller had two young women available as the potential replacement: junior Natalee Easthom and freshman Mallory Weisse.
After a long offseason of training and practice, Hiller had to make a goaltender decision before the season opener against Duke on Feb. 7. Before this season, Easthom had four minutes of college playing time. Weisse had zero.
Hiller went with Weisse.
"We didn't really make the decision on who was going to start until midweek," Hiller said. "I think we wanted to push those guys and see how they've done, and I think Mallory established herself as the starter for that first game. We really want to get the girls to work hard and compete, and make them want to prove themselves every time they step out on the field."
Hiller said that after she and her staff really evaluated the players' whole body of work, she decided that Weisse had earned the starting job for the season opener.
The freshman quickly proved her coach right. Her team headed to Durham, North Carolina, as the fifth-ranked team in the country, while the Blue Devils were ranked fourth and had just come off a 20-4 thrashing of Campbell in their first game of the campaign. Weisse turned aside eight Duke shots, helping her team to an 11-8 win.
"It was fun," Weisse said of her collegiate debut. "It was a really good time. In the beginning, obviously, you're a little nervous, some first game jitters, but as soon as the defense had the first five-minute possession, we gave the ball to our offense and we scored, I realized, 'they have my back, I've got to have their back.' That was really when it clicked for me that it was real. So I just kind of turned it on and played."
Named @NULax starter only late last week, freshman goalie Mallory Weisse stepped up Sunday: https://t.co/gNUXH3C1tdpic.twitter.com/0Q0UGwTEtS

— Lacrosse Magazine (@LacrosseMag) February 7, 2016
"I think she took the opportunity that she got on Sunday and she played really well," Hiller said. "She made some key stops for us that helped us win the game."
National viewers took notice, as well. Inside Lacrosse magazine named her the National Rookie of the Week for her performance. But both Weisse and her coach downplayed the importance of her recognition, using it as a source of motivation rather than a source of complacency.
"It doesn't really mean much," Weisse said. "It's just more for us to keep playing hard and keep going on our success."
Hiller didn't say who her starting goaltender would before Northwestern's second game, but she decided to stick with Weisse in the cage, this time against the tenth-ranked Virginia Cavaliers. While the team ultimately fell by a score of 10-8, Weisse was certainly not at fault, turning aside 10 Virginia shots in the contest to set a new career high.
What remains to be seen is if Weisse will get the nod for the Wildcats' next game against No. 3 Syracuse on February 28. Though Weisse has impressed in both of her college starts, Hiller maintained that she and her staff will evaluate the roster in practice every week, and decide who deserves to start based on those evaluations.
"Every week it's a week-to-week basis," Hiller said. "Great players establish themselves and they bring their A-game every week. That's how we get better as a team, is by everybody bringing their best game every day that they come out here, and that's what we need. That's what we need from our goalies, that's what we need from our defense, our offense, our middies, everyone. That's why we run our program like that."
Weisse understands this system, and is fully ready to duke it out with Easthom every week for the foreseeable future.
"Nat and I push each other every day in practice," Weisse said. "It's been a really nice, competitive environment for both of us. Every week is a battle. Every practice is a battle. I think it's going to be whoever plays the hardest and earns it that week. We got to keep fighting and keep pushing each other."
Hiller doesn't believe that having an inexperienced netminder hinders her team's chances to compete for the conference and national titles. While she's happy with what Weisse has accomplished so far, she reiterated that she feels good about putting Easthom in the game at any moment.
We'll see if that moment comes any time soon. But for now, at least, the NU goalie battle seems to have been won by Mallory Weisse. And the freshman has set some simple goals for herself in her first college season.
"Keep up the intensity, push myself and push my team," she said. "And stop the ball," she added with a smile.
She seems more than capable of that. For now, the hopes of Northwestern's season will ride largely on her shoulders. And that's not a bad position for the Wildcats to be in.