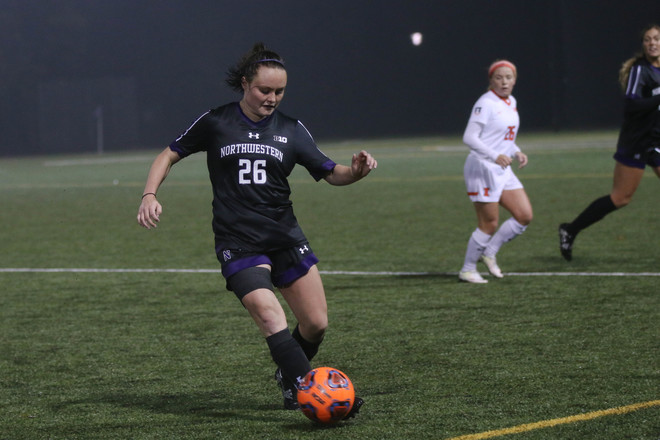 No. 24 Northwestern's (14-2-4) Big Ten Tournament run came to an end on Friday, as the 'Cats lost 1-0 to Rutgers in the semifinals. With a Big Ten Championship out of reach, NU will wait to see where it is headed in the NCAA Tournament.
The Wildcat defense that proved to be a brick wall during the regular season was unable to continue its dominance on Friday's game in Minneapolis. The Scarlet Knights came out quickly and scored six minutes into the game, on just their second shot. This goal was the first the 'Cats have allowed since playing Michigan in the beginning of October, six games ago.
Head coach Michael Moynihan shifted around the lineup throughout the first half, substituting players in and out five different times within the first 45 minutes of play. Moynihan typically doesn't rotate players this often, but when Rutgers got points on the scoreboard early on, he knew NU would need to vary its play as much as possible in order to stay in the game.
Sophomore Marisa Viggiano and sophomore Hannah Davison both got shots off in the first half, but weren't able to score. The NU offense picked up its game in the second half, getting off five shots, and the defense only allowed the Scarlet Knights to shoot once, but Rutgers was able to maintain their 1-0 lead through regulation time and knock the 'Cats out of the tournament.
While NU is done with the Big Ten Tournament, the 64-team NCAA Tournament almost definitely awaits them. With a national ranking of 24, the 'Cats should secure one of the at-large bids during the D1 Soccer Selection Show on Monday, November 7.
Despite allowing a goal in the Big Ten semifinal game, the Northwestern defense played pretty well against the Scarlet Knights, holding them to only six shots and one corner kick. When it comes to the NCAA Tournament, the biggest challenge for the Wildcats will be the same as it was going into the Big Ten Tournament: scoring. The 'Cats have only recorded five goals in the past month's eight games, and will need to be able to find the back of the net more often to advance in the NCAA Tournament.