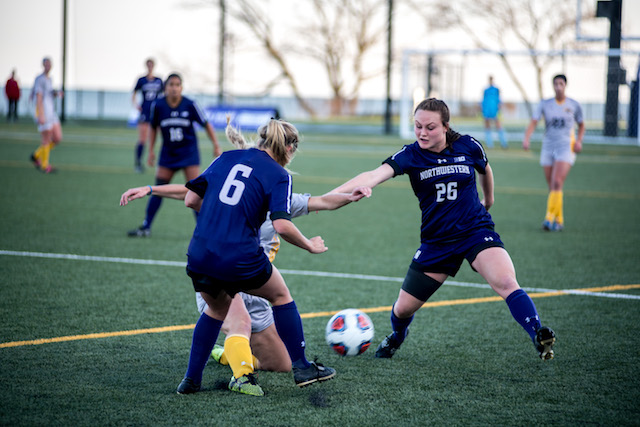 The Northwestern women's soccer team (12-8-3) cruised past Milwaukee (16-0-4) at the Lakeside Field Saturday afternoon to end their spring season on a high. While the 1-0 scoreline may not reflect it, the Wildcats produced a dominant display of possession-based soccer to complement a splendid spring day.
Right from the kickoff, it was clear Northwestern would be in control. After setting the tone in opening exchanges with crisp passing and an eagerness to attack, they hardley let the away team touch the ball. Within ten minutes, the Wildcats had already tested Milwaukee's keeper three times – midfielder Aspyn Repp came closest with a long-range strike that was tipped onto the crossbar. Coach Moynihan's side oozed with confidence, exemplified by left-back Simmrin Dhaliwal's casually perfect nutmeg in her own half.
The Panthers survived the early onslaught, though, and soon looked comfortable defending deep as they patiently waited for the chance to counterattack. Their first sniff of goal came in the 14th minute when forward Kelsey Gallagher skinned right-back Nakiya Smith to put in a dangerous cross, but the absence of any support in the box summed up Milwaukee's toothlessness going forward. Northwestern continued to cause danger, with Marisa Viggiano (two goals, eight assists in 2017) repeatedly using her trickery and clever passing to create chances from midfield, but the Wildcats lacked the cutting edge to capitalize and were held scoreless at halftime.
Northwestern came out of the gates firing in the second half, and their attacking tenacity paid off in the 51st minute with a wonderfully-crafted goal. The play started when Regan Steigleder (one goal in 2017), who bossed the midfield all game, drove through the middle of the pitch and sprayed a pass to Kylie Fisher (one assist in 2017) on the right wing. The freshman's inch-perfect, first-time cross found Brenna Lovera (four goals, three assists in 2017) lurking at the back post, who nodded home to complete a beautiful sequence.
Milwaukee responded with some pressure, pushing their defensive line high up the pitch and pumping crosses into the box. The Panthers' attacking efforts were continuously stifled by poor touches or overhit passes, though, and a glorious two-on-one situation in the 72nd minute was wasted as Milwaukee's left winger strayed offsides when played clean-through on goal. In the end, the junior centerback pairing of Kayla Sharples (three goals, three assists) and Hannah Davison (two goals, two assists) were quintessentially stalwart to ensure Northwestern finished with a clean sheet and a well-earned win. The victory concluded the team's spring season, which saw them finish as runners-up in the Chicago Cup, continuing the momentum from the 2017 season.