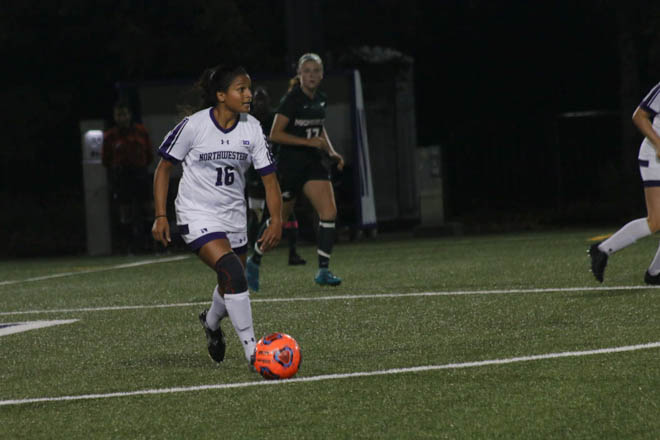 Women's soccer (11-1-1, 4-1-1 B1G) was able to clinch another conference win against Michigan State in third minute of overtime, winning 1-0. Northwestern walked away from the game with three points toward their Big Ten ranking, putting them in a tie for third place with Rutgers and Minnesota, and is getting closer to their goal of being conference champions.
Despite being scoreless for all of regulation, the 'Cats were able to show offensive dominance in many of their possessions. Things were slow in the first half for both teams, with the Wildcats only getting off four shots and the Spartans only shooting twice. However, during the last 25 minutes of the second half the Wildcats were able to pick up the pace, but all seven shots got stopped by Michigan State defenders and Spartan goalkeeper junior Savanna Wojtanowski.
During the quick break between regulation time and overtime, the team discussed finding ways to capitalize on the touches they received. Head coach Michael Moynihan said he talked to the players about slowing down a little and setting up good shots.
After three shots that didn't go in, junior Kassidy Gorman took her coach's advice to heart and scored the game winning goal in the 93rd minute.
"I give her a lot of credit for her persistence," Moynihan said. "For somebody who doesn't play up there a lot she has good instincts. She finds herself in the right space to pick up a lot of second balls."
While Gorman was the one who took the shot, she credited the team for coming out on top. She said knowing how much both she and her teammates wanted the overtime win pushed her to stay focused after ending regulation time feeling slightly frazzled.
"We've been focusing a lot on unity and communication this year," she said. "It's been a very big aspect in our team and I think it's really helped our team to be more comfortable with each other on the field and off the field. I think that really reflects in how we play now."
The 'Cats take on No. 23 Michigan Sunday at Martin Field, and this conference game will truly test the team's cohesiveness. After losing to the Wolverines in the quarterfinals of the Big Ten Championship last year, Northwestern is definitely looking for revenge on its home field.
Coach Moynihan said he is expecting a battle this weekend, and that while he's confident that the team is up to the challenge, he's currently focused on making sure the players get rested up before the next match.
"It's very difficult to play games back to back in the Big Ten," Moynihan said." "We've been able to see Michigan a few times, they've had a tremendous season so far and they have some very focused attacking options. We know it's going to be a test."